Natural stone steps can really pull an entrance or backyard patio together. But how expensive is a natural stone step project? Is it worth the investment? In this guide, we'll explain the cost factor of installing natural stone steps, and why doing so is worth the investment.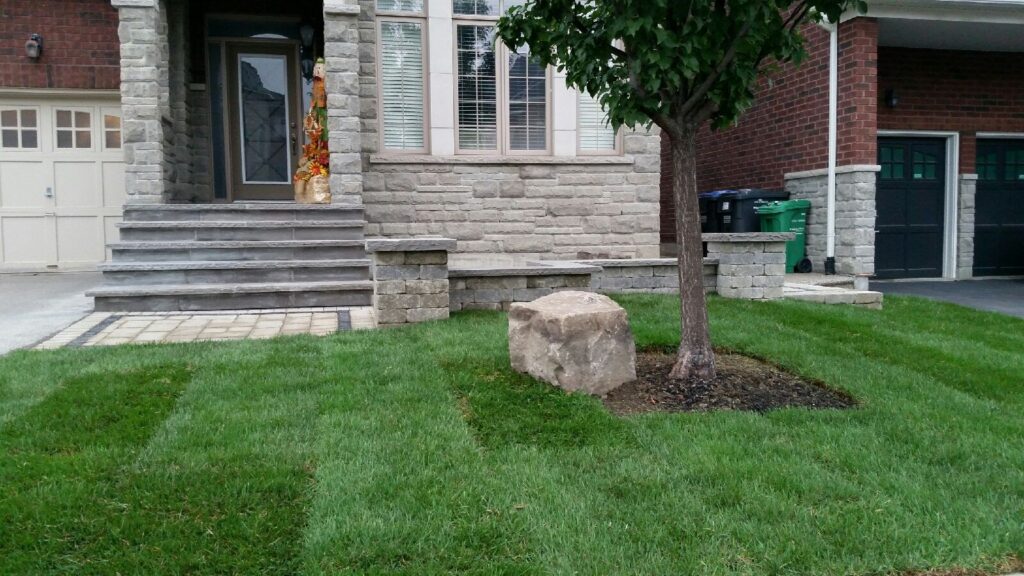 What Goes into Pricing A Stone Step Project?
Like all home improvement projects, pricing is relatively custom and can vary depending on a number of different elements. That's why it's important for you to understand what goes into a natural stone step installation project. In this guide, we breakdown the main steps of the project, give you some ballpark costs, and ideas on how you can lower the cost by doing work yourself.
Price of Natural Stone Steps
The addition of natural stone steps may really improve the appearance of your house. Across the Greater Toronto Area, installing stone stairs typically costs roughly $2,500– however, prices might vary based on the scope of the job and the type of stone you select. While high-quality granite is more expensive and can run you up to $13,000 with expert installation, lower-grade slab costs often fall in the $1,400 to $1,500 range.
It's worth noting that these are very general numbers. The cost of materials can vary greatly from bluestone to granite to limestone to concrete.
Price of Excavation
Before taking on a stone step project, you should start thinking about the excavation process. To prepare the area for installation of natural stone steps you'll have to excavate and level the space. Depending on your yard, this can either be a huge job that requires the use of machines or something smaller that can be done with a wheelbarrow and shovel. To give you a ballpark number, the price of excavation might reach $250 per cubic yard.
Pro Tip: If you don't mind getting your hands filthy, you might be able to clear a significant amount of ground for your stone stairs by yourself, depending on the size of your region. Labour expenses can be reduced by doing it yourself, but it's not always practical, especially if you don't know how to properly prepare the area.
Price of Labour To Install Stone Steps
Another factor to take into account is labour expenses. This can drastically change based on what is required, the material you select, and how long it takes. A general rule of thumb people like to use when calculating the cost of labour is that it's the same price as material. So if your stones cost $2,000 the labour to install them will generally cost around $2,000. For example, the cost to install 3-6 steps could be in the range of $500-$3,000 with the total project costing $1,000-$6,000.
When it comes down to it, natural stone steps are worth it simply because they add value to your home. They are also quite durable, so maintenance costs are relatively low.
The Cost of Natural Stone Steps Varies
In the end, the cost of installing stone steps in Toronto varies. The installation labour costs will vary, as will the costs of the specific materials you want to use. The size of the area to be paved with natural stone steps will also be a key factor. Your best bet will be to get a quote from a hardscaping company such as Terrastone Landscaping.
Invest in Natural Stone Steps with Terrastone Landscaping
If our guide to natural stone steps gave you some inspiration, feel free to reach out to our team of specialists to ask any questions or begin the process!
Feel safe knowing for more than fifteen years, Terrastone Landscaping has been the go-to source for installing natural stone interlock pavers in the Greater Toronto Area. We offer other fantastic hardscaping services as well—we're not simply a landscaping business!
Let's make your dreams a reality.