Thinking about redoing your driveway, building a backyard patio, or walkway? You must think carefully. When taking on a home large home project like this you need to make sure your money is invested effectively.
Many homeowners today personalize their outside spaces by building patios and driveways that extend beyond the traditional asphalt or concrete slab. You now have a number of options to choose from, but the most popular are interlocking concrete pavers and stamped concrete.
In this guide, we'll look at the key differences between stamped concrete and interlock. After reading this you'll understand why the better choice for your driveway, patio, or walkway is an interlocked one.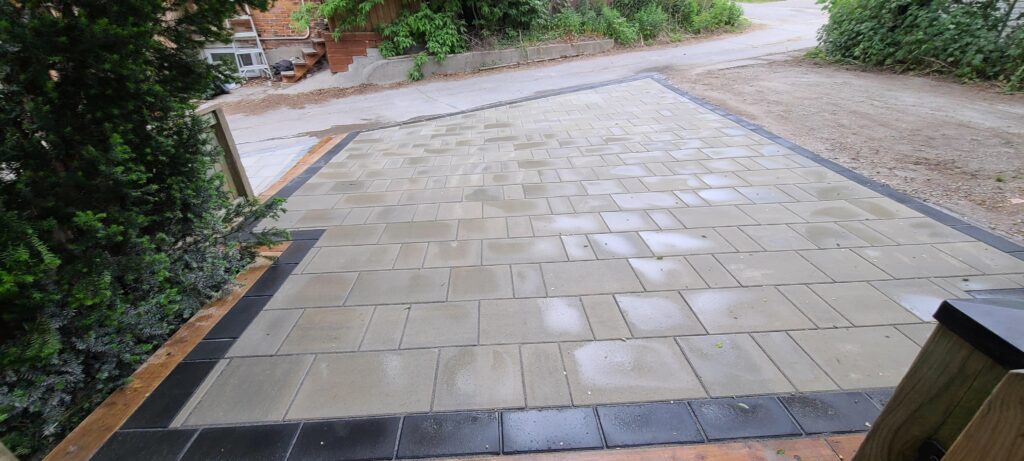 The Benefits of Interlocking
An attractive option with several advantages is interlocking concrete pavers. While they might be costly to install at first, they rarely need to be replaced and need very little care over time. Interlocking pavers almost never break, and any necessary repairs may be completed quickly. Interlocking pavers may also be used to create attractive and distinctive designs by mixing and combining colours and patterns.
The Benefits of Stamped Concrete
For your outside space, stamped concrete might be a genuinely stunning option. It's even capable of imitating genuine stone or segmental paving. Colours can also be combined by hand on location to achieve the precise hue you like. You'll also have a lot of options when it comes to patterns. All of this makes stamped concrete an excellent choice for individuals who wish to make their area truly unique. Another advantage is that the stamped concrete is sealed to protect it from the elements and pollutants.
Interlocking vs Stamped Concrete
When it comes down to it, interlocking pavers are the superior option. There are a number of drawbacks to using stamped concrete. For starters, even though stamped concrete is initially cheaper than interlock, it still has a hefty starting cost – and will need much more maintenance. For stamped concrete, professional installation is needed and repairs are routine. Due to the inflexibility of concrete, the surface is prone to developing cracks or blisters, and de-icing salts can exacerbate the problem. You'll also notice that the colour of your concrete driveway will fade over time.
Interlocking pavers are simple to install and have a lovely appearance that adds to the curb appeal. Interlock has a tremendous visual effect and works well with a range of home types, including old world and modern, streamlined designs. Interlocking pavers are also extremely adaptable and may be utilized practically anyplace within and outside the home. Interlock pavers come in a number of forms, textures, and colours, making them usable on a variety of property types. One main advantage is that interlocking pavers usually outlast concrete in terms of longevity.
Get In Touch With The Interlock Experts
Ready to install your interlock driveway or interlock walkway? Get in touch with the team at Terrastone Landscaping today! We'll help you make the best decision on where and how to install your modern interlock driveway. We also offer a free consultation for all of our clients across the Toronto and Markham areas. Give us a call today!