When you work in the landscaping industry, you get to experience many different yard styles, layouts, and sizes. What we've come to notice over time is the when you set up a small backyard correctly, you can make it feel huge!
But what if your backyard is particularly difficult? Will it require a sizable second mortgage to turn it from a bleak wasteland to a fun-filled haven?
One of the nicest things about backyards is that little changes can make a huge impact! Here are some landscaping ideas for your backyard that won't break the bank.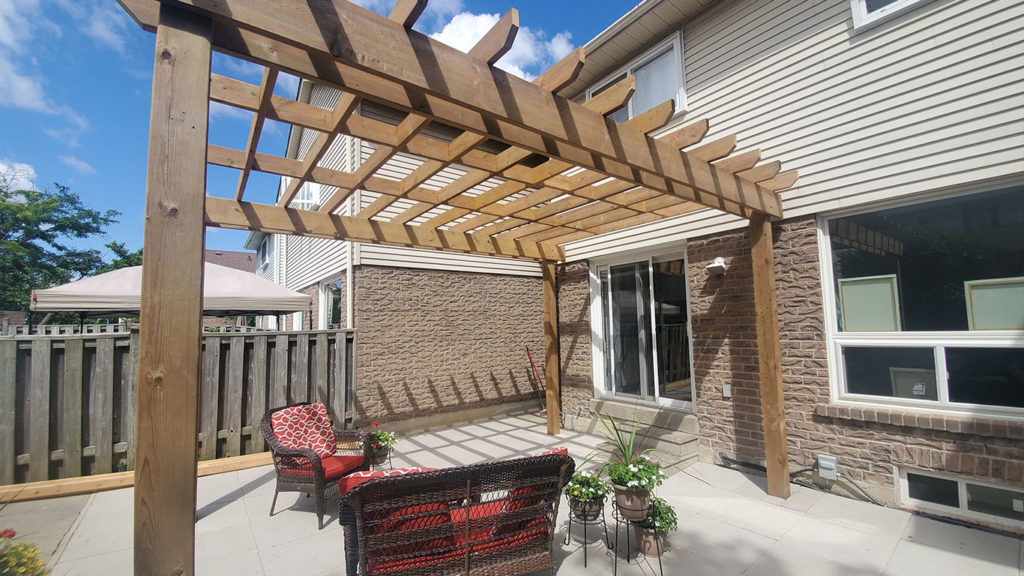 Invest in an Interlock Patio to Add Dimension and Coziness to Your Small Backyard
If you don't already have a patio space, you should definitely look into adding an interlocking paver patio! A patio is the foundation of your backyard. Once you have one, everything else can be centred around it, allowing you to add all sorts of new things. Not only will the interlock stones bring beauty to your backyard with a large range of patterns to choose from, but they also give you a space to add seating, a table, or even a fire pit.
Try Creating a Framed View
In tiny yards, architectural structures like arbors and pergolas are perennial favorites. Frame a vista, hang a swing, or even establish a climbing garden with one. These backyard constructions' height creates the appearance of extra space, while the elements themselves provide interest and character.
Add a Stone Raised Garden Bed
A stone raised garden bed can really take your backyard beauty to the next level. Pull out any dead plants, dig out the weeds, and trim the overgrown shrubs after the winter debris has been removed. Then hire a professional hardscaper to install your stone garden bed and plant some brightly coloured flowers in the area to give it a summery vibe.
Install a Stone Fire Pit
Fire pits are in high demand! These charming additions to a small backyard may transform a plain yard with captivating flames and serve as a meeting spot for late-night s'mores and afternoon picnics. You can really alter any aspect of a fire pit, including its size and type of stone used to build it. Your fire pit should ideally be between 3 and 4 feet around to allow several people around it while keeping a cozy atmosphere.
Add a Water Feature
Bring some life and zen to your backyard by adding a water feature, such as a pond, waterfall, or fountain. Not only is it a centrepiece for family and friends to admire, but the soft noise of moving water will have you at peace when you're outside enjoying you backyard by yourself.
Water features come in a number of different styles, our favourite is the modern look with straight cuts, square corners, and lights.
Hire Toronto's Expert Hardscape Crew To Transform Your Small Backyard
If you live in the Toronto, Markham, or Greater Toronto area, our team of professional landscapers at Terrastone Landscaping can help you with backyard ideas and creating the backyard patio of your dreams. Give us a call today to learn more and get a FREE estimate!
If you already have photos and measurements, send them to us and we'll provide you with a FREE Quote Online!