It's summer and that means it's time to clean and reseal your interlock! If you live in the Toronto and Markham area, you know all too well how weather can damage and dirty interlock pavers and slabs in your driveway or walkway. Luckily, there are some easy ways to keep your interlock well-maintained, clean, and sealed. Let's take a look.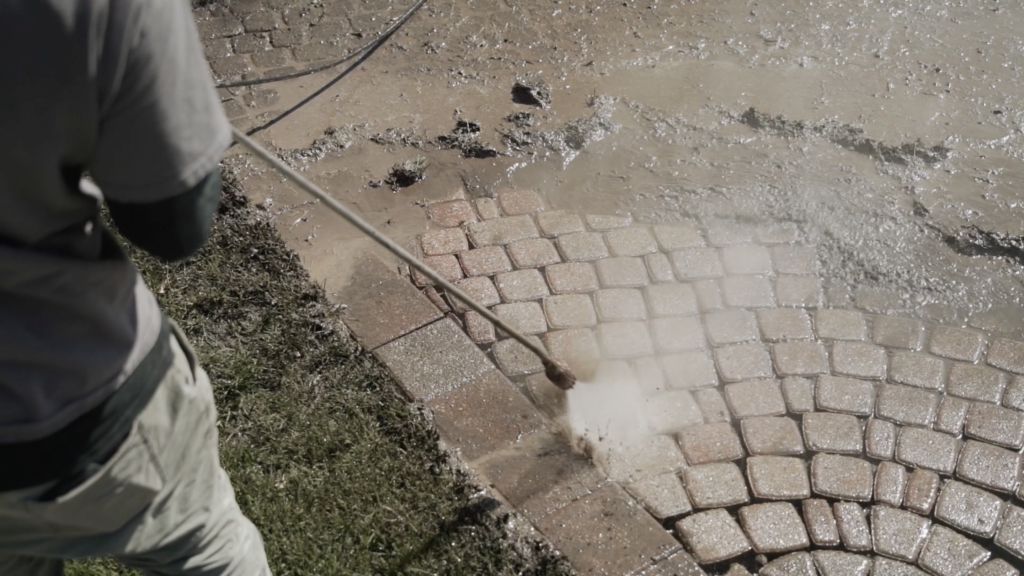 Understanding Interlocking Stone
Interlock is available in a range of materials, with stone being the most common. Natural or prefabricated interlock stones can be utilized to construct magnificent outdoor elements such as walls, patios, garden walks, or waterfalls. Brick pavers are rectangular in shape and are typically utilized in high-traffic areas like a driveway or path. Concrete is the least expensive material that gives a variety of design alternatives if you're searching for a budget-friendly solution. Stone, on the other hand, has a more appealing appearance.
How to Clean Interlock Pavers
Cleaning your interlock patio pavers is actually quite easy. Simply follow these steps:
Sweep or blow away any loose debris sitting on top of the surface.
Clean the pavers with a garden hose or a power washer.
In a bucket, combine household detergent and water until quite sudsy, then pour over the pavers and let soak for 20 minutes.
Scrub your pavers using a scrubbing brush or broom.
Using a hose, rinse the trash and soap away.
Remove difficult stains including oil, grease, rust, paint, plant detritus, tar, dirt, and rubber with a paver cleaning solution.
There's also the problem of weeds to consider. Those who had their interlocking stone placed more than a decade ago are more likely to have this problem. Polymeric sand is used by most landscaping businesses nowadays because it inhibits weeds, grass, and other greenery from growing in between the stones.
If you see weeds growing around your stones, you can easily remove them using an interlock weeding tool or horticultural vinegar.
How to Seal Interlock Pavers
Sealing interlock pavers is equally as straightforward, though you will need to be very diligent about cleaning your pavers before sealing:
Start by rinsing off your pavers with a hose or pressure washer.
Mix water and detergent together and pour the mixture over your interlocking stone.
Follow the cleaning instructions in the previous section.
Examine the joints that are between each stone. Ensure that the sand in the cracks is about half the height of your interlocking stone.
Sweep new sand into any spots that need it.
Once stones are dry, apply a smooth, consistent coat of interlock sealant. We recommend using a paint sprayer for this to keep it even and to use both solvent and water interlock sealant.
Let your sealant dry according to the instructions on the package.
The Easiest Way to Clean and Seal Your Interlock Pavers
Trust me we get it, it's a lot of work to do. Sometimes it's better your just leave it to the professionals. If you're located in the Greater Toronto or Markham areas and are looking for a handsfree way of maintaining your interlock, give us a call! We'll provide you with a free quote and help you get your interlock pavers in tip-top shape.