Building a fire pit patio with pavers is a great way to create the perfect outdoor space for entertaining. Not only will you have an outdoor cooking area, but you will also have a cozy spot where friends and family can gather around a warm fire.
Step By Step Guide To A Homemade Fire Pit
Building this type of patio is relatively simple and straightforward, though there are several important steps that need to be taken in order to ensure the safety of anyone using your fire pit.
To begin, plan out how many pavers you need and how they should be arranged.
Measure out enough space to accommodate them plus how much room you'll need for the fire pit itself. Choose pavers that are heat resistant and sturdy enough to hold up under the heat of the fire, such as concrete or brick.
Once your layout is planned and the materials purchased, it's time to start laying down the foundation – beginning with gravel or crushed rock spread evenly over the soil below.
After this, lay each paver piece in position according to your design until you've completed the entire surface base.
Finally, build up a strong retaining wall using wall block stones stacked one atop another to contain logs for burning during the use of your fire pit.
With these steps complete, your new patio area with a fire pit is ready for use – just add wood and enjoy.
Also read: Interlocking Vs Stampede Concrete
Design Tips For Paver Patio Fire Pits
Creating a paver patio fire pit is an enjoyable and stress-relieving outdoor activity that is easy to do yourself. If you want to create your own DIY patio fire pit, here are some tips to help you make it look amazing.
Once you have decided where you'd like your fire pit to be, take time to measure and mark off the area. Afterward, begin by laying out a bed of compacted gravel and use paver base material or sand before installing the pavers. Be sure to check levels throughout the entire installation process to ensure an even final surface, allowing your fire pit area to remain safe for use. 
You may like: Choosing The Right Design For Your Interlock Patio
Next, decide on material selections–there are both brick and stone options available for a classic look. Finally, relocate any plants or shrubs that may be in the way for easy access during construction and check local ordinances to ensure all safety regulations are met.
With a bit of creativity, use differently shaped and textured stones for an interesting design element. Gradually raise the stones at the edge of the ring and construct a course-by-course approach. Complete each course with metallic veneer dust from your local home improvement store which will stabilize and lock down your design elements to prevent erosion once exposed to water and time.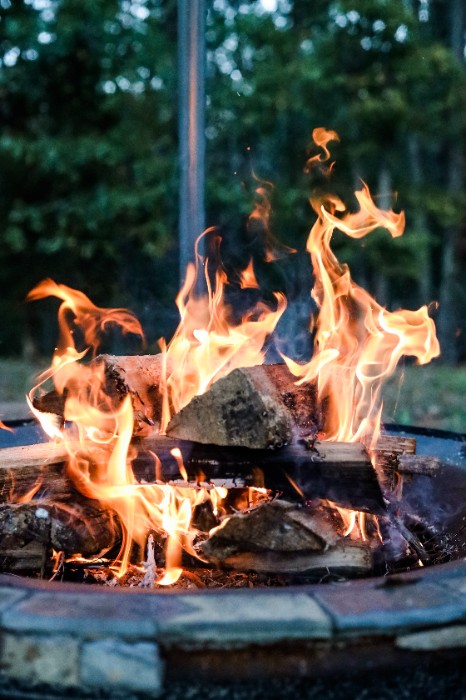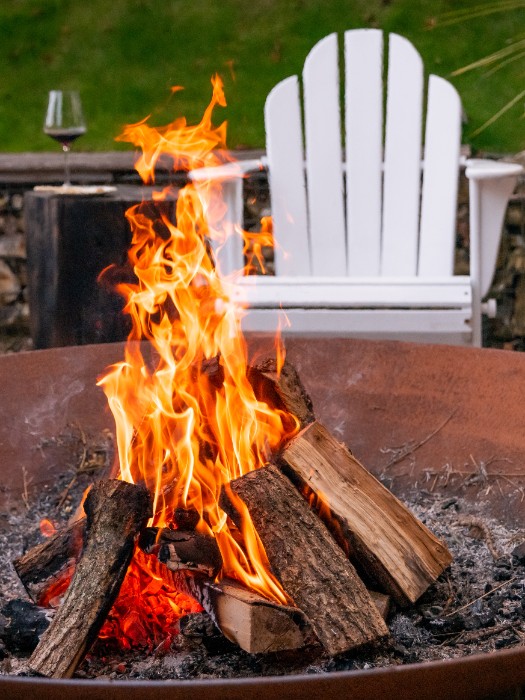 Safety Measures For A Wood-Burning Fire Pit
There are a number of important safety measures to keep in mind when operating a wood-burning fire pit. First, it's best to have your fire pit installed on a sturdy, non-combustible surface such as concrete or stone at least 10 feet away from your house, patio furniture, and any other structure like a fence or shed.
Make sure the area around the fire pit is clear of debris or vegetation—meeting all local bylaws for open fires in the process. Prior to use, you should also make sure your chimney damper is working properly (if you have one).
More From Us: Benefits Of Interlock Vs Asphalt Driveways
Finally, always maintain a careful watch over the flame, monitoring wind conditions frequently and never leaving things igniting inside unattended. It is also a good idea to keep a fire extinguisher nearby. By following these safety measures, you can ensure the safe operation of your fire pit and years of enjoyment with family and friends!
Materials Required For Patio Paver Fire Pits
To build a patio paver fire pit at home, you will need the following materials:
1. Fire pit liner: Choose a fire pit liner that is heat resistant and made of materials like masonry, clay, or metal so it will be able to withstand the extreme temperatures of your fire.
2. Pavers: Pavers are necessary for creating the frame and structure of your fire pit. Make sure to choose pavers that are rated for outdoor use and can stand up to the elements.
3. Sand: A layer of sand should be spread at the bottom of your fire pit before you lay down the pavers. This will make them adhere better and prevent them from shifting around over time with the heat from your fire.
4. Gravel: Adding an additional layer of gravel to your firepit is also recommended as it will help drainage and even out any bumps in the surface caused by unevenly laid pavers.
5. Adhesive: To ensure everything stays in place, you'll need an outdoor-grade adhesive specifically designed for patio projects like this one; make sure it's waterproof and will hold up in high temperatures too!
6. Tools: You'll need a few basic tools such as a shovel, trowel, leveler, gloves, eye protection, tape measure, hammer, saw or grinder (if necessary), and pry bar (if needed).
Also read: Everything You Need To Know About Retaining Walls
Is It Cheaper To Build a Fire Pit Patio or Buy One?
When it comes to transforming the look and feel of your outdoor space, the options are endless. A fire pit patio is one popular choice that can instantly add style and sophistication to a backyard. But when it comes to deciding between building or buying a fire pit patio, which option is most cost-effective? 
Let's take a look at the pros and cons of each approach.
Building a fire pit patio has its own set of benefits. First, if you have an eye for design and construction, this can be a great DIY project that can save you money in the long run. You will decide what materials you want to use and how much space you want to allocate for your patio.
In addition, because many materials such as brick pavers or flagstone slabs come pre-cut and ready to install, the process from start to finish may only take several days.
Furthermore, depending on the scale of your project, there could be some savings when purchasing bulk material.
On the other hand, buying a pre-made fire pit patio also has its advantages. Purchasing a kit means that everything you need for installation is provided for you so there's no need for shopping around for materials or cutting any stones yourself.
Additionally, if your backyard has limited space or uneven terrain, pre-built fire pits come in various shapes and sizes so they can better fit into tight spaces or terraced areas. It's also important to note that some materials used in these kits may have lower maintenance requirements than their do-it-yourself counterparts – plus they come with guarantees from the manufacturer so you can rest easy knowing your purchase is covered in case something goes wrong down the road.
Similar: How Much Does Interlocking Cost
Consider Professional Help For Your Patio Project
When it comes to building a fire pit patio, there are a lot of factors to consider. From choosing the right materials and design to safely constructing the features, having expert advice is invaluable.
Professional landscaping companies have the knowledge and expertise required to ensure that your fire pit is constructed properly, looks great and will last for years.
Having professional help with your fire pit project can save you time and money in the long run by eliminating costly mistakes. A professional can also provide helpful tips on how to make sure that your fire pit is safe for use.
For example, they can advise on what type of materials are best suited for the area, how far away from combustible materials it should be placed, and other important safety considerations when building a fire pit patio.
Look no further other than Terrastone in the Greater Toronto Area. If you're looking for expert advice or a free quote, contact us by filling out the form on our contact page.
Let's make your dreams a reality.